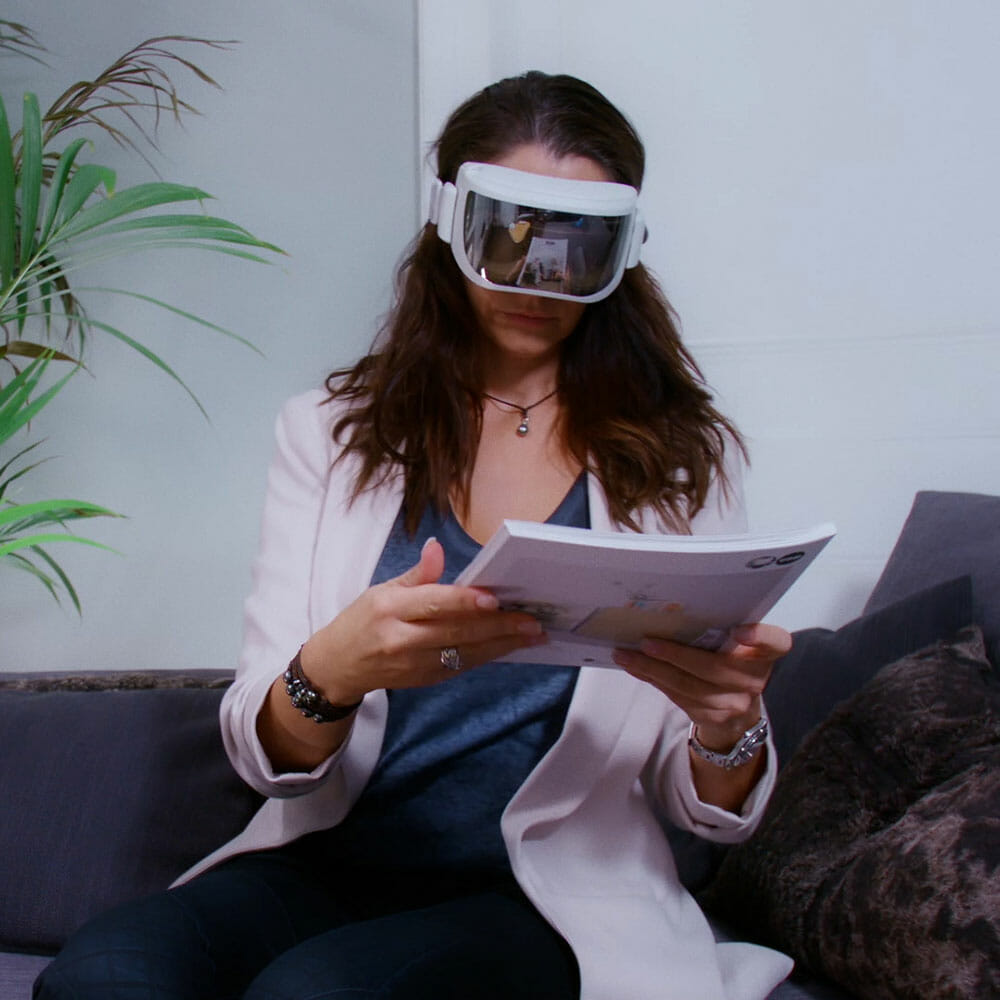 BLEPHASTEAM® eyelid warming mask
is a convenient eyelid warming device to relieve symptoms of Meibomian Gland Dysfunction (MGD) and associated diseases such as blepharitis and dry eyes.
The BLEPHASTEAM® device provides a moist and heat therapy. This dual action unblocks the meibomian glands, improves the tear quality, therefore improving symptoms, ocular health, vision and comfort. Therefore, it can be used to relieve the symptoms of meibomian gland dysfunction and associated diseases such as posterior blepharitis, meibomitis, ocular rosacea, chalazion, contact lens intolerance and dry eye.
Based on the original scientific studies of Dr J R Fuller, BLEPHASTEAM® is a CE marked device developed by Laboratoires Théa, a leading ophthalmological company specialising in lid care and designed in collaboration with eye care specialists.
The BLEPHASTEAM® product range
The BLEPHASTEAM® device delivers a precise temperature and moisture level to melt meibomian secretions and obstruction.
Unique design delivering moist heat at a consistent temperature

Convenient and easy-to-use, 10 minutes twice daily

Quality of blink preservedSo meibomian oil can be released on closure and tears refreshed on blinking.

Clinically proven to improve tear quality, decrease tear evaporation and improve vision
Using the BLEPHASTEAM® eyelid warming mask
What is the difference between the new BLEPHASTEAM® and the previous version?The BLEPHASTEAM® new generation device includes many improvements: wireless device, warmup of only 3 to 4 minutes (vs 15 minutes for the previous version), for adults and children from 3 years old, more comfortable for patients, provides a clear and wider vision during the treatment session while maintaining the performance and safety of the previous BLEPHASTEAM® version demonstrated in clinical studies.

What is the temperature reached by BLEPHASTEAM®?The safety and efficacy of BLEPHASTEAM® have been evaluated in many clinical studies. Blephasteam® safely provides a controlled moist heat, delivering a temperature of approximatively 42.5°C. It has been shown that a constant warming of the meibomian glands to ≥ 38°C is vital in MGD patients to liquify the meibomian secretions before eyelid massage, whilst higher temperatures, preferably ≥ 40°C are recommended for effective liquefaction of more severely obstructed glands.

Are there any potential side effects that can occur?The possible side effects that have been reported are irritation and redness around the eye and eye pain. If you notice any side effects or unusual sensations after using this device, please contact a health care professional and/or report the information to the local distributor (the contacts are available at the end of instructions for use provided with BLEPHASTEAM®).
Who can use BLEPHASTEAM®?BLEPHASTEAM® can be used by adults (including pregnant and breastfeeding women) and children from 3 years old (with the presence of a parent or carer).

Can BLEPHASTEAM® be used on eyes with make-up?BLEPHASTEAM® should be used on clean eyes without any make-up or dermatologic ointment.

Can BLEPHASTEAM® be used after using an eye drops?Eye drops should not be used for at least 15 min before using BLEPHASTEAM®.

Can BLEPHASTEAM® be used with contact lenses or glasses?Contact lenses and glasses must be removed before the treatment session with BLEPHASTEAM®.

When should BLEPHASTEAM® NOT be used?Unless otherwise specified by your eye care professional, BLEPHASTEAM® must not be used in the following cases: • Acute diseases of the eyes and/or eyelids. • Recent injury and corneal lesions or damage to the eye. • Meibomian seborrhoea (excessive secretion of sebum produced by the meibomian glands). • After surgery to or around the eye. • If the patient is allergic to any component (plastic compounds).
We supply some of the most exciting healthcare products in the UK.
Would you like to be a UK stockist?
Where to buy BLEPHASTEAM®
You can click the interactive map below to view all registered BLEPHASTEAM® stockists in your area (or opticians that have experience with the BLEPHASTEAM® device). If your local optical practice does not stock the product already, please ask them to contact us on 0345 838 6704 to place an order and become a stockist.
You can also buy directly from various online retailers.
If you are an optical practice wishing to stock BLEPHASTEAM®, or you need to update any of the details below please contact us.
BLEPHASTEAM® – Quick Start Guide – 2.2Mb
BLEPHASTEAM® – Instruction Booklet – 3.4Mb
Butterflies Healthcare brochure – 6Mb