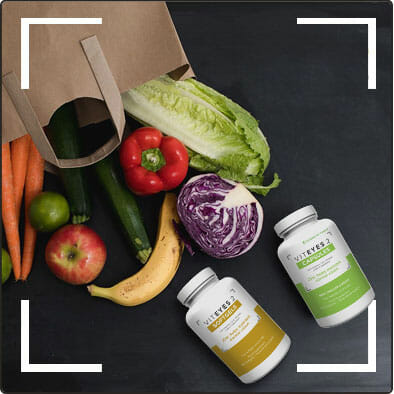 VITEYES 2 supplements
have stood the the test of time in supporting eye health and helping maintain normal vision.
Viteyes is one of the UK's leading brands of eye health supplements and is widely recommended by eye care professionals across the UK.
The reason for this is the strong clinical base which underlies the formula used. Specifically over 15 years research conducted by the National Eye Institute as well as other facilities such as the North Chicago VA Medical Centre (both in the United States) into age-related degenerative conditions of the eye.
The Viteyes 2 product range
The range consists of a number of products which contain various vitamins, minerals and other nutrients including:
ZincWhich contributes to the maintenance of normal vision
Omega 3EPA and DHA which contribute to the maintenance of normal vision
There are many nutritional supplements on the market. Very few of them offer as wide a range of products with research to back-up their claims to help promote eye health and reduce the risk of developing age related changes. Viteyes 2 is one that does and is made with high quality, carefully chosen ingredients.
Compare products in the Viteyes 2 range of supplements
Viteyes 2
SOFTGELS
Viteyes 2
CAPSULES
Viteyes 2
Advanced
Viteyes 2
Zinc-Free
Viteyes 2
plus Omega 3

Lutein
10mg
10mg
10mg
10mg
10mg

Zeaxanthin
2mg
2mg
3.5mg
2mg
2mg

Vitamin C
500mg
500mg
500mg
500mg
500mg

Vitamin E
400IU
(268mg α-TE)

400IU
(268mg α-TE)
400IU
(268mg α-TE)
400IU
(268mg α-TE)
400IU
(268mg α-TE)

Zinc
25mg
25mg
25mg
-
25mg

Bilberry Extract
-
-
40mg
-
-

Grape Seed Extract
-
-
50mg
-
-

Alpha Lipoic Acid
-
-
50mg
-
-

Selenium
-
-
200µg
-
-

Omega 3
-
-
-
-
1,000mg

Copper
-
Vegetarian/Vegan
-
-
We supply some of the most exciting healthcare products in the UK.
Would you like to be a UK stockist?
Are there any side effects?
Generally, Viteyes 2 products are well received with very few side effects.
The relatively high dose of zinc can sometimes cause stomach upset which is usually alleviated if taken with food. For sensitive individuals Viteyes 2 Zinc-Free is a good alternative.
Can Viteyes 2 be taken with other medicines and vitamins?
Whilst generally well received, if you take a lot of medication it is always worth discussing with your doctor before starting any vitamin supplement.
If you take blood thinning medication (e.g. warfarin), supplements containing vitamin E can upset the levels. Therefore, it is best to discuss the situation with your medical practitioner before starting a new product.
No other supplements containing the same vitamins should be taken in conjunction with Viteyes 2 products.
Is it safe to take large doses of vitamins?
During the National Eye Institute studies (AREDS and AREDS2) and in subsequent follow-ups there has been no statistically significant increase in any serious adverse conditions from taking the dose of vitamins and minerals in the Viteyes 2 range.
Are Viteyes 2 products suitable for vegetarians/vegans?
Viteyes 2 CAPSULES, ZINC-FREE and ADVANCED contain no ingredients of animal origin and are therefore suitable for vegetarians and vegans.
The rest of the Viteyes 2 range uses gelatin (bovine) capsules so is not suitable for vegetarians/vegans.
Are Viteyes 2 products suitable for smokers?
The Viteyes 2 range is generally considered safe to be taken by smokers as none of them contain beta-carotene.
Can I get Viteyes 2 on an NHS prescription from my doctor?
Subject to local circumstances, all Viteyes 2 products can be prescribed under the NHS on an FP10 prescription, so it would be worth discussing with your GP.
What are macular pigments?
Lutein and zeaxanthin are important, naturally occurring pigments at the back of the eye, known as macular pigments. They are yellow in colour and filter damaging high-energy blue wavelength light. They are also antioxidants and therefore protect against the damage caused by free radicals. Importantly, zeaxanthin is not found naturally in the body, but synthesised from our diet and utilised by the body, especially the eye.
Research conducted by the US National Eye Institute, North Chicago VA Medical Centre and other studies appears to demonstrate that carotenoids have an important role to play in visual performance and macular health.
It is worth noting that despite the various studies which claim the contrary, the EFSA has not approved any eye health claim for macular pigments.
Ask at your local optical practice or pharmacy for Viteyes 2 by name. If they do not stock the products already, please ask them to contact us on 0345 838 6704 to place an order and become a stockist.
You can also buy directly from various online retailers.
If you are an optical practice or pharmacy wishing to stock the Viteyes 2 range, please contact us on 0345 838 6704.
Viteyes consumer leaflet – 1.6Mb
Comparison of leading eye health supplements – 1.4Mb
Butterflies Healthcare brochure – 6Mb