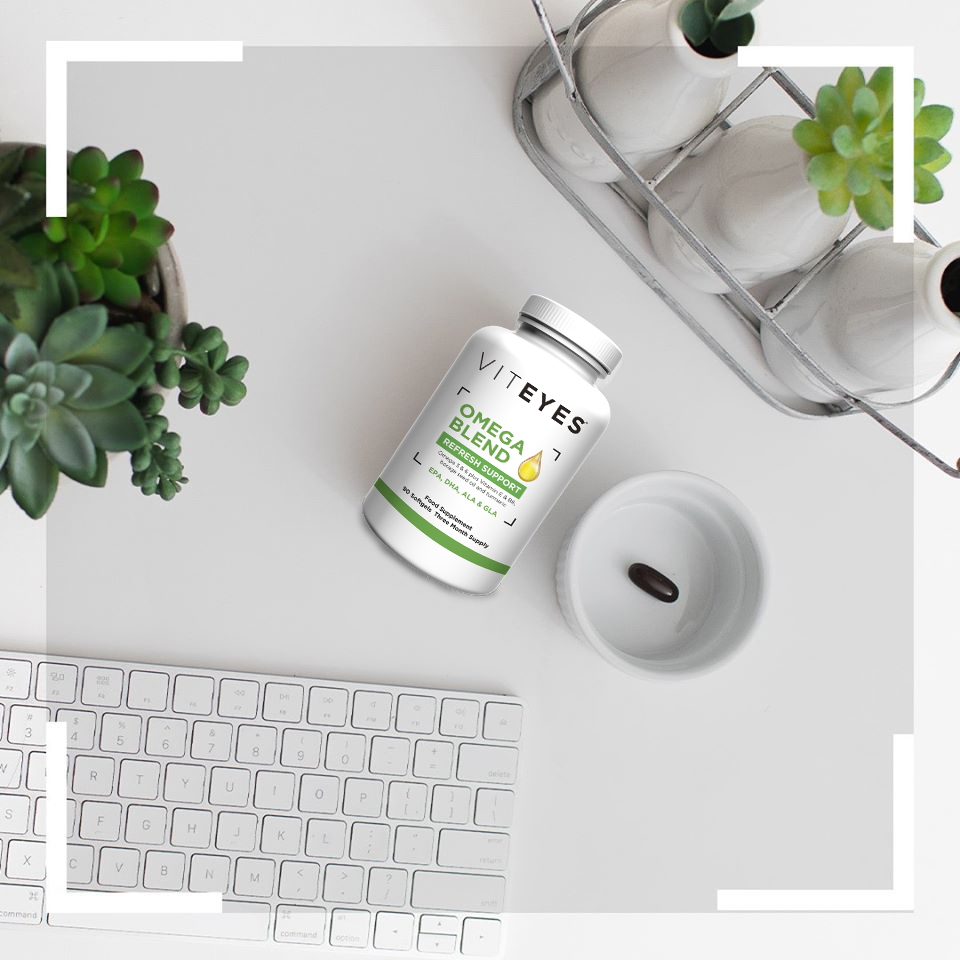 VITEYES specialist
supplements
have a targeted blend of ingredients to help a range of eye conditions such as protecting the health of the optic nerve.
Viteyes is one of the UK's leading brands of eye health supplements and is widely recommended by eye care professionals across the UK.
The reason for this is the strong clinical base which underlies the formula used. Specifically over 15 years research conducted by the National Eye Institute as well as other facilities such as the North Chicago VA Medical Centre, both in the United States.
The Viteyes specialist product range
These supplements are more targeted, focusing on specific aspects for eye health. The products provide various vitamins, minerals and other nutrients including:
Vitamins C & Ewhich contribute to the protection of cells from oxidative stress

Fish, flaxseed and borage seed oilsincluding DHA which contributes to the maintenance of normal vision
Vitamins C, B6 & B12 which contribute to normal functioning of the nervous system

Magnesiumwhich contributes to normal functioning of the nervous system.
There are many nutritional supplements on the market. Very few of them offer as wide a range of products to cover all different aspects of eye care. Viteyes is one that does and is made with high quality, carefully chosen ingredients.
We supply some of the most exciting healthcare products in the UK.
Would you like to be a UK stockist?
Viteyes specialist supplements FAQ's
Are there any side effects?
Generally, Viteyes specialist supplements are well received with very few side effects.
Taking 501mg or more of magnesium a day may cause mild stomach upset in sensitive individuals.
Can Viteyes be taken with other medicines and vitamins?
Whilst generally well received, if you take a lot of medication it is always worth discussing with your doctor before starting any vitamin supplement.
No other supplements containing the same vitamins should be taken in conjunction with Viteyes products.
Are Viteyes products suitable for vegetarians/vegans?
Viteyes specialist supplements use gelatin (bovine) capsules so are not suitable for vegetarians/vegans.
Some also contain fish oils.
Can i take a Viteyes specialist supplement if I have glaucoma or dry eyes?
The Viteyes specialist supplements can be taken by those with glaucoma and/or dry eyes.
Ask at your local optical practice or pharmacy for Viteyes by name. If they do not stock the products already, please ask them to contact us on 0345 838 6704 to place an order and become a stockist.
You can also buy directly from various online retailers.
If you are an optical practice or pharmacy wishing to stock the Viteyes range, please contact us on 0345 838 6704.
Viteyes consumer leaflet – 1.6Mb
Butterflies Healthcare brochure – 6Mb