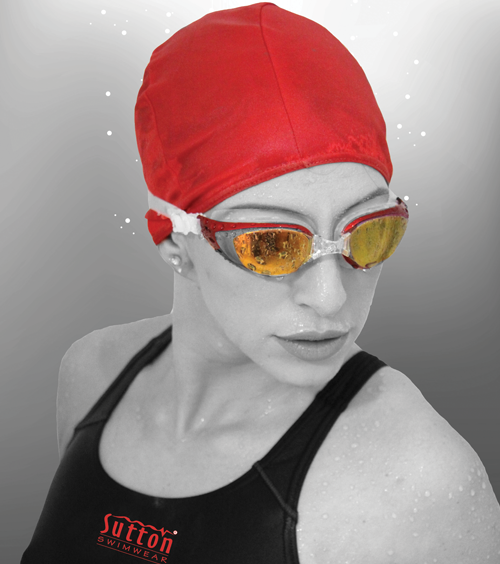 Sutton Swimwear
prescription swimming goggles mean that: pool, sea or spa; look good and see well®.
As we all know, whether for the casual or serious swimmer, swimming is one of the most enjoyable activities that can form part of a healthy lifestyle with approx 5.6m1 adults swimming once a month and 3.05m young people aged between 7–16 years swimming ten times a year or more.
With upwards of two thirds of the UK population wearing spectacles or contact lenses, good vision becomes an important issue for water safety, performance and the overall enjoyment of swimming. This is particularly relevant for spectacle-wearing children who are learning to swim.
The concerns expressed by many spectacle wearers is an inability to see the edge of the pool, other people around the pool or even the right changing rooms. Wearing contact lenses is one option but this is not always recommended, even under goggles. Soft contact lenses can absorb chlorine if they regularly come into contact with swimming pool water and by being in contact with the eye for much longer can lead to serious problems. Plus there is the risk of infections such as acanthamoeba.
1 Sport Industry Research Centre (SIRC) guide on behalf of the Amateur Swimming Association (ASA)
Sutton Swimwear product range
Stylish and affordable, you can view the entire Sutton Swimwear prescription swimming goggle range here.
A pair of prescription swimming goggles is a real and affordable answer. Only a few years ago this would have meant a pair of rather unfashionable and bulky goggles, but things have come a long way. Sutton Swimwear offer some of the most stylish models on the market at an affordable price. The range includes options for:
Long-sighted corrections (up to +8.00)

Short- sighted corrections (up to -10.00)
So pool, sea or spa; look good and see well® with Sutton Swimwear.
We supply some of the most exciting healthcare products in the UK.
Would you like to be a UK stockist?
Where to buy Sutton Swimwear
Ask at your local optical practice for Sutton Swimwear by name. If they do not stock the products already, please ask them to contact us on 0345 838 6704 to place an order and become a stockist.
You can also buy directly from various online retailers.
If you are an optical practice wishing to stock the Sutton Swimwear range, please contact us on 0345 838 6704.
Sutton Swimwear brochure consumer flyer – 650kb
Sutton Swimwear consumer flyer – 550kb
Butterflies Healthcare brochure – 6Mb