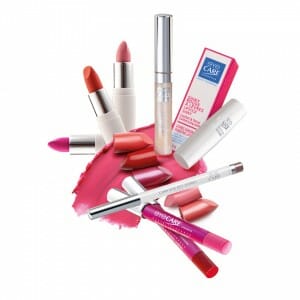 Perfect matte looking lips
We are pleased to be able to offer these new, liquid lipsticks which look and apply like a lip gloss with a sponge applicator. However, immediately after application the long-lasting, matte colour appears.
Non-drying, non-transferable in 6 colours, the velvety gel texture leaves a perfect finish, an ultra-soft feel and extreme comfort. Each liquid lipstick is enriched with silicium, vitamin F and vitamin E for moisturised, strengthened and smooth lips. These act more like a lip stain, easily lasting all night and even requiring a cosmetic remover to take off the very last traces!

The formulation pharmacists have developed for these new lipsticks avoids known irritants and adheres to the principles of bio-inertia, ensuring a reduced risk of a reaction (RRP £17.50).
To celebrate the launch of our new hypo-allergenic, matte liquid lipsticks, we also have matching nail enamels as shown in the images above.
Award winning Eye Care Cosmetics liquid lipsticks are enriched with vitamins and minerals and are specially designed to be gentle on sensitive skin and lips.