At the recent Pure Beauty Awards, our Eye Care Cosmetics Bronzer Powder scooped a Bronze Award for the Best New Makeup Base Product.
The awards were held at The Savoy Hotel, London and hosted by Gemma Cairney a radio DJ, author and presenter, who presented the 36 awards after a welcome from Laura Husband the editor of Pure Beauty magazine. The dress code was 'Neon Glam' making this sell-out best-in-beauty event a very bright occasion with luminous dresses and men in flashing neon jackets and bow ties!
Many of the big, beauty brands and retailers were represented on the night so we are always thrilled as a family-owned company to attend and come away with an award. To see the celebrity photos plus all of the winners and finalists, click here.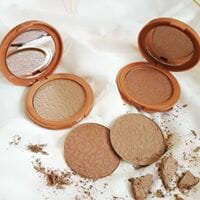 Eye Care Cosmetics hypo-allergenic bronzer powder is finely milled or 'ultra-micronised' for an ultra-soft feel. It is also enriched with tiny illuminating pearls that create an instant healthy glow effect. The entire Eye Care Cosmetics range is formulated for dry, sensitive eyes and skin, blepharitis, nickel allergy and contact lens wearers.
As a bronzer, it is perfect for all skin types, even the most sensitive, giving the appearance of naturally tanned skin all year round but especially as winter draws in.