The judges have made their decision and awarded NATorigin Nail Enamel their Beautiful Nails Award. The panel included Zoe Ball, Lynne McTaggart, Dr Marilyn Glenville, Jo Wood and Carrie Grant.
I received this award from natural health expert Janey Lee Grace at a breakfast ceremony held at The Grand Connaught Rooms in London, presented by UK Health Radio. This radio station was created Johann Ilgenfritz by who told us that after having a heart attack followed by cancer, he wanted to offer regularly updated health and lifestyle information to listeners. His website is made up of podcasts on a wide range of topics that you can choose to listen to whenever you want. You can hear his story on Janey's Spotlight Show section.
Janey commented that there were a record number of entries this year and the judges loved discovering the incredible array of fantastic products and services. I bumped into Shann Jones from The Chuckling Goat who has found interesting uses for her farm's goat milk, including treating her husband's MRSA. Again, you can hear more on Janey's Spotlight Show podcasts.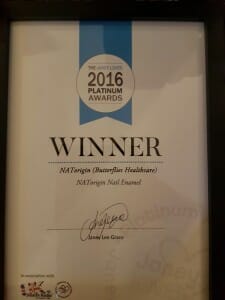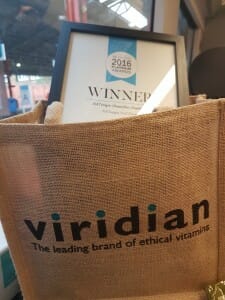 I also met up with Lian from sponsors Viridian Nutrition, who are based in Daventry, the next town to us. They have created an ethical, pure and additive-free range of vitamins and beauty supplements, using organic ingredients where possible and supporting the communities and health stores in which they trade. Thank you for providing the natural goody bags to carry my certificate home in!
Here is a full list of winners of Janey Loves Platinum Awards 2016.