This week, we have headed up the motorway to the ICC, Birmingham for The Royal College of Ophthalmologists Annual Congress 2014. Every year, we hire a stand and take Viteyes brochures, samples and pens to give out to the delegates as we tell them about Viteyes – our nutritional supplement for eye health.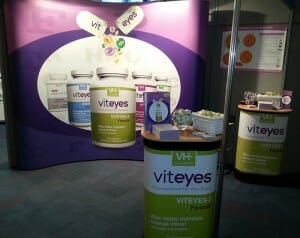 We emphasise the strong research base behind Viteyes – as this is of high importance to prescribers such as ophthalmologists and GP's. Evidence-based prescribing ensures that patients receive treatments that give the best results.
As well as attending educational lectures, the delegates meet to discuss the latest research and visit the stands from optical suppliers such as ourselves. We also get to meet up with our fellow suppliers to discuss industry trends and to see each others new products.
On Wednesday, delegates from professions allied to ophthalmology attend the Congress and on Thursday, it's the first-ever GP Day. Getting our message out to as many health professionals as possible is crucial as they are in contact with patients who may be at risk of developing eye diseases. Our optical and pharmacy backgrounds ensure that we can explain the results and limitations of the research currently available.

The Royal College of Ophthalmologists Scientific Committee work hard on the scientific programme and choose the best speakers in their different fields. These are dynamic internationally renowned lecturers, chosen to address the UK's largest ophthalmic conference and exhibition. The President's session on the first morning of the Congress features these internationally renowned speakers.
The Chairman of the Scientific Committee Professor Tony Moore says 'We are very pleased to welcome Richard Abbott, John Marshall, Neil Miller and Gullapalli Rao who will be delivering our eponymous lectures this year. This promises to again be a great meeting and we very much look forward to welcoming you to Birmingham.'
For updates throughout the week, follow us on Twitter or Facebook.