Already renowned for their range of macular health supplements, Viteyes is delighted to introduce a brand new innovation, formulated with nutrients which can help support the healthy function of nerves such as the optic nerve.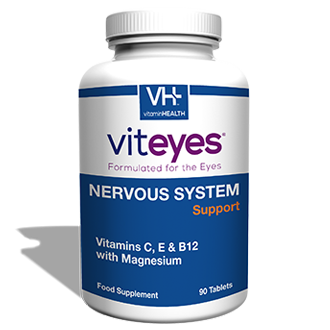 Conditions which can affect the optic nerve might include glaucoma or optic neuritis. While these clearly require medical treatment, nutritional supplements can have a role to play IN CONJUNCTION with this to help optimise remaining nervous system function.
Viteyes Nervous System Support provides vitamins C, B12 & magnesium which contribute to normal functioning of the nervous system. Vitamins C & E which contribute to the protection of cells from oxidative stress.
Directions: One to three tablets to be taken orally with a meal.
Quantity per bottle: 90 (RRP £51.00)
Click to watch our introductory video about Viteyes Nervous System Support  Viteyes Nervous Support video
Contact us for details by email info@butterflies-healthcare.co.uk or call 0333 700 6704 or 0845 838 6704.