Last Tuesday, the office team were treated to a Champagne cream tea to celebrate winning their Team of the Year Award in the Banbury Employee of the Year Awards.
We left James manning the phones at 3pm and headed over to Limes Farm, Farthinghoe to a beautifully restored barn that has been converted into a farm shop and cafe.
Aimee, Julie, Suzanne Tracy and myself sat upstairs on the mezzanine overlooking the cafe below on comfy leather sofas while our Champagne was poured. It felt decadently indulgent, leaving work early for this.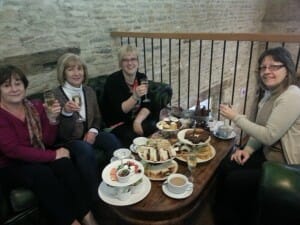 The food arrived on cake stands, sandwiches with smoked salmon and cucumber, roasted vegetables, ham and cheese options. The scones were piled high with cream and homemade jam and came with chocolate brownies, Victoria sponge slices and almond biscuits. Something for everyone!
It looked so exquisite, we took some photos before diving in. There was barely enough room on the table for it all!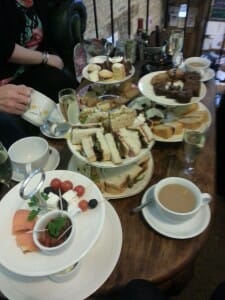 A huge pot of tea was poured and the two hours flew by until closing time. We asked for doggy bags for the leftovers and I gave one to James for his tea so he didn't completely miss out.
We all agreed that it was truly indulgent and we would like to do this every week!