Our exceptional office team at Butterflies Healthcare Ltd are thrilled to have won Team of the Year at The Banbury Employee of the Year Awards 2013.
The winning team were presented with their engraved trophy and certificates by Tony Baldry MP along with the award sponsors Paul Angus from Banbury Sound and Claire Kingsbury from Plus One Personnel.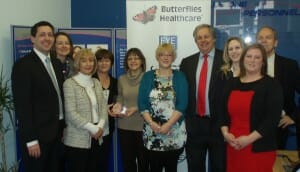 The team were nominated by the business owners James and Michelle Sutton (photo far left) in recognition of an extremely busy year for the company. Total sales increased by 25% on the previous year then a move to larger premises followed in September.
The four-strong team pictured from left to right; Julie Birkenhead, Suzanne Castle, Tracy Chambers and Aimee Tuzzio received glowing testimonials from suppliers and customers which were submitted as part of the entry. They are all multi-skilled and can perform all tasks required and do so on a rota basis to keep their days varied and skills active.
Aimee commented, 'We had no idea that James and Michelle had nominated us for an award, so it's great to feel appreciated for the work we do.'
Michelle added, 'We wanted to thank the team for supporting us this year, as without them we could not have achieved this level of growth.'
The team were consulted ahead of moving to assist with drawing up a floorplan and their valuable insights helped streamline the stock picking, packing and order processing. On the move itself, they packed up the old premises, unpacked and arranged the packing room. They came in on a Saturday to ensure a smooth changeover and upon opening, they positively managed initial teething problems including IT glitches and a leaking window! The time saved through a more organised process has allowed staff more time to help run the business.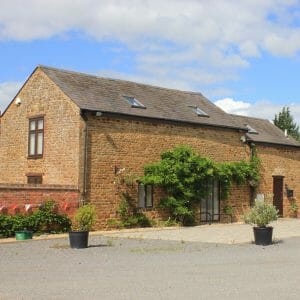 They have never missed a days work due to bad weather braving the snowy conditions of the last few winters to be sure we were able to answer queries, keep customers informed and despatch orders when Royal Mail could reach us.
Following an eventful year for the business, we believe that everyone else should know how great they are, which is why they truly deserve the Team of the Year Award.