Having previously won Team of the Year, this year we decided to sponsor the Apprentice of the Year category in the Oxfordshire Employee of the Year Awards. As usual, the award organisers – Plus One Personnel particularly Zoe ensured everything ran smoothly both during the judging process and on the night.
The Oxford Belfry Hotel was the venue and we were greeted by our hosts for the night Simon Smith of Wellers Accountants and Julia from Heart radio. After a networking buffet with welcome healthy options, we proceeded into the awards ceremony. After an introduction to the awards by Stuart Moore from Plus One Personnel they were announced.
The entrants to our category were all fantastic examples of what an apprenticeship can be, rewarding both the apprentice with hands-on training and the employer with new in-house skills. It was a difficult decision but the winner was Karcher's first-ever apprentice and won outstanding praise from all the departments he worked in. So much so in fact, that Karcher created a job specifically for him and have continued to roll out their apprenticeship programme.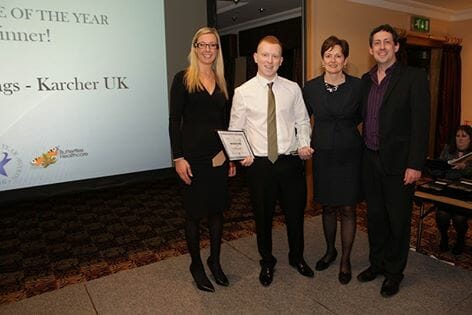 Congratulations to the winner of Apprentice of the Year:
Luke Jennings of Kärcher UK.
Here we are, with Julia of Heart Thames Valley, presenting Luke with his certificate.
A very well done to the other finalists:
Rosie England of Digital4Business
Alex Pollard of Clarkson Evans
Mae Sarah Smith of Druckers
Magdalena Fraczkiewicz of St Clare's College
The event was a great opportunity to meet local companies, network and find out about some of the great stories that the companies employees had to share. For more information on local apprenticeships, contact Oxfordshire Apprenticeships.
To see all the award winners, please visit Plus One Personnel's winners page.