The votes have been cast and the category of BEST EYE MAKEUP REMOVER has awarded as a Finalist: Eye Care 2-in1 Eye Makeup Remover.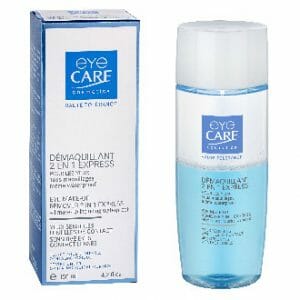 Reaching the final THREE is a great achievement for our eye cosmetic remover for sensitive skin that was only launched last year. With a biphasic blue/clear formula featuring an oily phase and a water phase that mix when gently shaken. This effective remover quickly yet gently removes all traces of eye cosmetics including our waterproof eye shadow creams and jumbo pencils.
Eye Care Cosmetics are specially made using a unique process for dry, sensitive eyes, blepharitis and contact lens wearers so are ideal for opticians to stock in their practices. Known irritants are avoided and the remaining ingredients are chosen for their ability to strengthen the skin's defences around sensitive eyelids. It does not pull or drag but simply glides over the lid margins without disturbing the tear film or adding to the debris from blepharitis.
If you are an optician looking to add this hypo-allergenic range to your contact lens and dry eye clinic products, see our range of support or call us on 0845 838 6704.