This week 20th to the 26th May is National Vegetarian Week (NVW2013). This aims to raise awareness of the benefits of a meat free lifestyle and offer support to anyone considering a switch to a veggie diet. A free Going Veggie Guide is available for download from their website along with lots of easy and tasty recipes to get you started.
Existing Vegetarian Society members have submitted 'Seven Surprisingly Simple Recipes' that are fuss-free, tasty and 100% meat-free to get you started.
Many local and national companies including restaurants, food and beauty retailers are offering discounts, events and tastings to promote their products and services.
The entire NATorigin range is VegSoc approved which means it has been independently checked by them and re-approved annually. To gain their approval, products must be completely free from ingredients of animal origin and cruelty-free. This is particularly important for lipsticks as they are ingested throughout the day from the lips and often contain fats, oils and colours derived from animals or insects.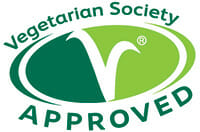 To see what offers are available both online nationally and in your local area, click on the NVW2013 website. Select What's Happening? and enter your postcode. For national or local events click on the pink boxes.
Across the UK local support groups are available. Some meet up regularly to share local news and attend relevant events.
NATorigin is proud to be supporting NVW2013.